We were established in 2006 with the perspective to put customers first in business. We've been working hands on designing, installing and maintaining several types of systems for our clients. These systems include network cabling, business telephones, security, wireless networks, audio/video, access control, and entry systems. The quality of our work and service has allowed us to remain a respected peer among all those who deal with us.
We carefully manage and appreciate the business offered from our clients. We've had an excellent start to a great business. We're always expanding our services and keeping current with safety procedures, product training and in touch with our client's demands.

Data Cabling Communications LTD brings together over 20 years of experience and expertise in both the technical and business aspects of the industry.  The enthusiasm and drive to constantly succeed is directly passed on to our clients and their installation needs.
Our team will assess your needs and implement them into an effective solution for your business. Find out how we can help you by contacting Data Cabling Communications today!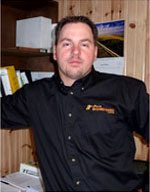 Pierre Dumas
Owner/Senior Technician

Joshua Kinzie
Project Coordinator/Technician

Andrew McKay
Project Coordinator/Technician

Domenic Albidone
Estimator/Administrator


Muriel Kowalczyk
Office Administrator
Melissa Malinowski
Secretary
Ready to learn more? Contact us today!